6 Layer PCB Board-Stackup, Thickness, Fabrication, and Price
What is 6 Layer PCB Board?
The 6-layer PCB is the same as the 4-layer PCB board we have introduced, and it belongs to a kind of multilayer printed circuit board.  A 6-layer PCB Board can be regarded as a standard four-layer circuit board plus two additional signal layers. Therefore, a standard 1.6mm 6-layer PCB board stackup is Top Layer and Bottom Layer, 3 Prepreg Layers, 2 internal routing layers, 1 internal Ground layer, 1 internal power layer, 2 Core layers. This stacking method can be Improve the EMI effect to a large extent.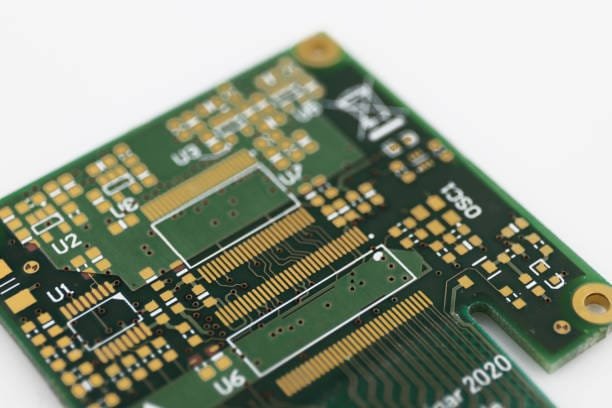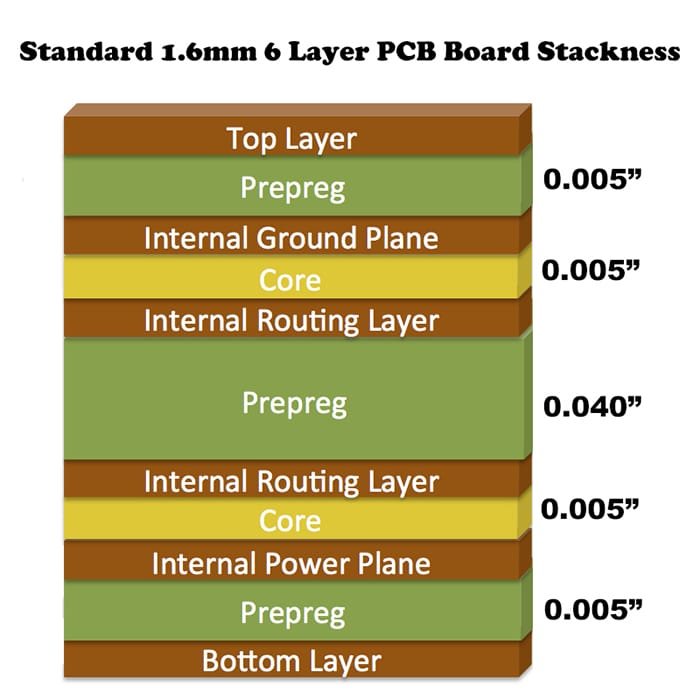 Fig.1
standard 1.6mm 6 Layer PCB Stackup and Thickness
Although the 6-layer PCB stack mentioned above is standard, the standard is not the best. The following is a comparison of three other 6-layer PCB stacking methods.
The following is a set of common 6-layer PCB circuit board stacks for reference.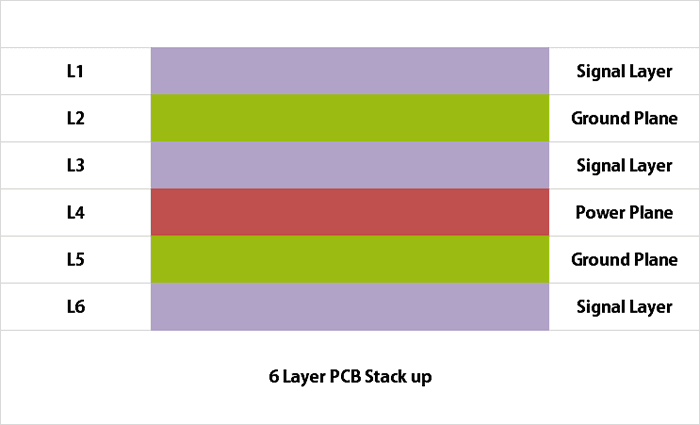 Fig.2
6 Layer PCB Board Stackup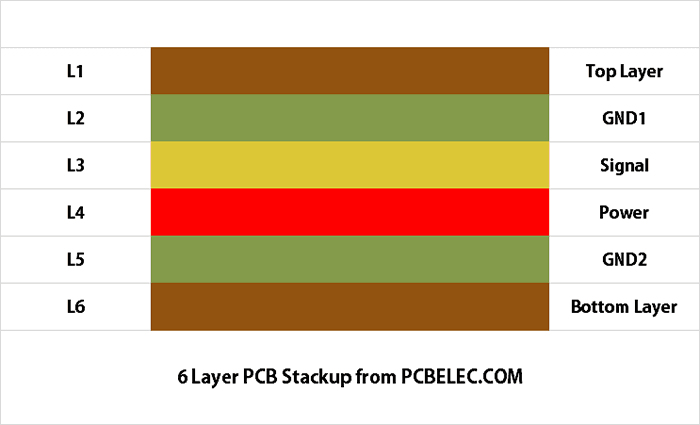 Fig.3
6 Layer PCB Stackup from PCBELEC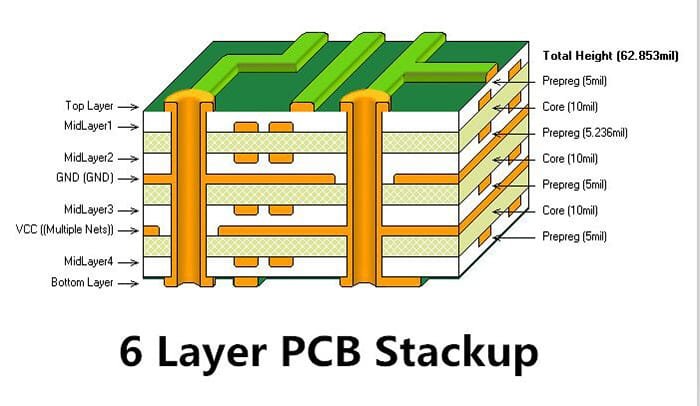 Fig.4
6 Layer PCB Stackup and Thickness

Fig.5
3 Types of 6 Layer PCB Stackup, the right one is best.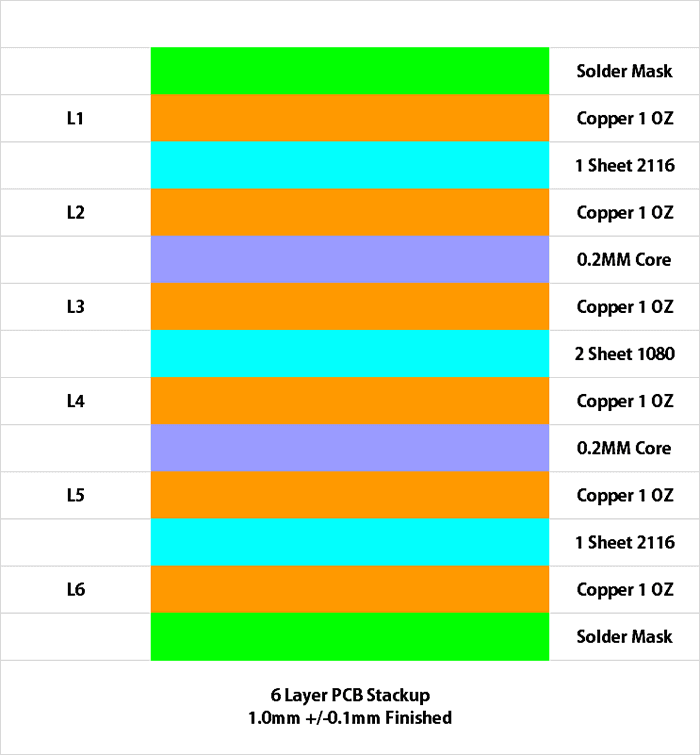 Fig.6
1.0mm +/-0.1mm finished 6 Layer PCB Stackup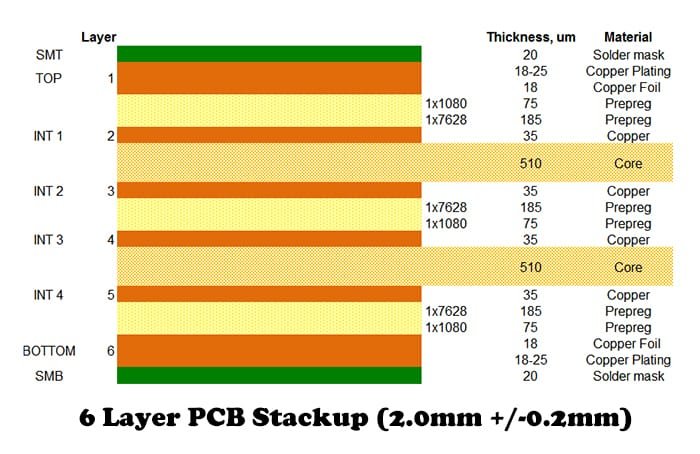 Fig.7
2.0mm +/-0.2mm 6 Layer PCB Stackup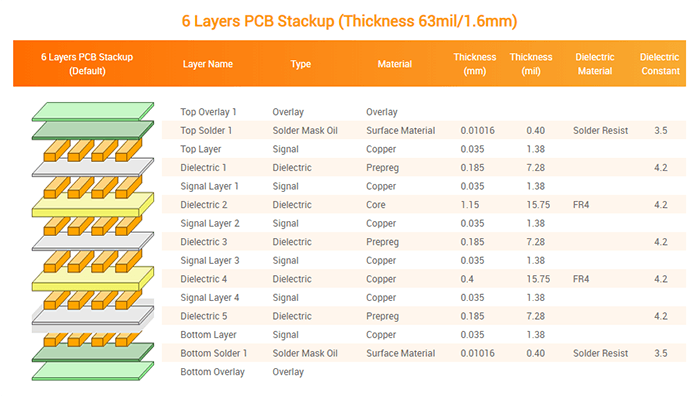 Fig.8
63 mil 2.0mm thickness 1.6mm 6 Layer PCB Stackup
6 Layer PCB Board Manufacturing
Compared with double-sided circuit boards and 4-layer circuit boards, 6-layer circuit boards have more layers and are therefore more conducive to routing. However, at the same time, the fabrication cost and production difficulty of 6-layer circuit boards are also Will increase.
With the continuous development of SMT (Surface Mount Technology) and the continuous introduction of a new generation of SMD (Surface Mount Devices), such as QFP, QFN, CSP, BGA (especially MBGA), electronic products are more intelligent and miniaturized, so Promoted major reforms and advances in PCB industrial technology.
Therefore, the advancement of PCB manufacturing technology has also made the manufacturing of 6-layer PCBs easier.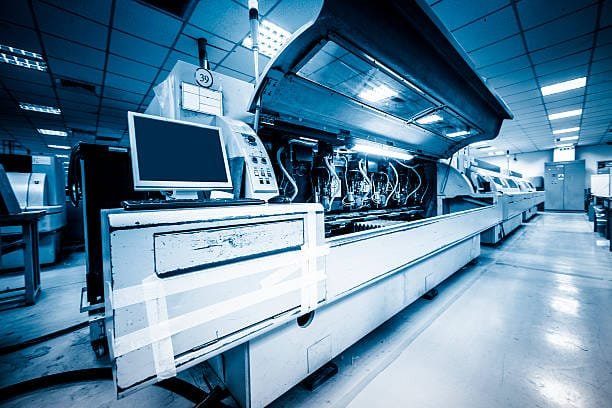 Fig.9
6 Layer PCB Fabrication – Drilling
6 Layer PCB prototype Price
JHYPCB is a professional multilayer PCB manufacturer in China with a good price. We provide customers with low-cost, high-quality, and fast-turnover 6-layer PCB prototype production services.
6-layer PCB prototype fabrication can quickly verify your stack up and design, find errors and defects in time and reduce losses before mass production.
5-7 days delivery for 6 layer PCB prototype, and 72 hours for express prototyping.
You can get a quick free quote for 6 layer PCB, simply by email send Gerber, quantity, etc. to sales@pcbjhy.com.