PCB SMT Solder paste Stencils
Apart from all types of Printed Circuit Boards (PCBs) such as Prototype PCB, Aluminum PCB, HDI PCB, Flexible PCB, Rigid-Flex PCB, Thick Copper PCB, High TG PCB, JHYPCB also manufactures solder paste stencils to meet Surface Mount Technology (SMT) requirements.
PCB Stencil, SMT Stencil, SMD Stencil, Laser-Cut Stencil, Solder Paste Stencil, What is it?
PCB Stencils, also called SMT stencils, SMD stencil, play a key role in transferring accurate amount of solder paste to correct positions on bare circuit boards ready for assembly. In other words, stencils can fast and efficiently ensure the most accurate solder paste amount and optimal electrical connection. With solder stencils, it is possible to use metal squeegee blades to apply solder paste easily over the openings on PCBs and make stencil to be well aligned with the surface of the advanced circuit board.
JHYPCB, The best SMT Stencil Manufacturer
All of our SMT Stencils stencils are 100% laser-cut type 304 full-hard stainless steel, ensuring the finest quality finish on the market today. We use a .001″ laser beam with 98% overlap creating an extremely smooth hole that provides the best paste release. Most stencil fabricators use a .003″ laser leaving mouse bites on the aperture edge. You can choose a PCB Prototype stencil, a frameless foil stencil, or a rigid permanently mounted stencil. Both the frameless and framed stencils come in various sizes to accommodate your printer and stencil requirements.
Why SMT Stencils Are Important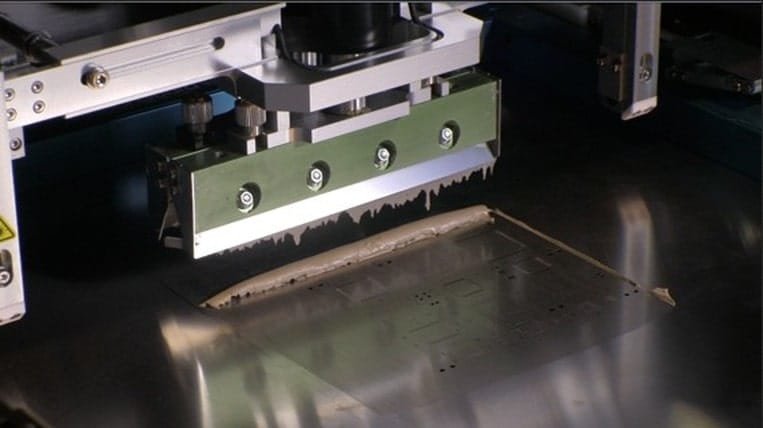 Surface Mount Technology is an area of electronic assembly used to mount electronic components to the surface of the printed circuit board (PCB) as oppose to inserting components through holes as with conventional assembly.
The first machine to setup in the manufacturing process is the solder paste printer which is designed to apply solder paste using a stencil and squeegees to the appropriate pads on the PCB. This is the most widely used method for applying solder paste.
Keeping control of this process is critical as any printing defects, if undetected, will lead to defects further down the line. With assemblies becoming more complex the design of the stencil(Click here to download the IPC-7525 Stencil Design Guidelines) is key and care must be taken to ensure a repeatable and stable process.
Why do you need SMT STENCIL?
In electronics manufacturing, a solder paste stencil is used for the following reasons:
When using SMT (Surface Mount Technology) in the design of the printed circuit board (PCB).
When using automated component placement equipment (unless it is a hand-loaded prototype).
This equipment replaces the process of hand soldering each component. Once components are placed onto the solder paste covering the printed circuit board, the PCB is then heated or 'baked' to solder the components to the board.
How can you make sure you apply the solder paste with precision exactly where it needs to go?
SMT stencils, or surface mount technology stencils, are the answer. SMT stencils are the medium you use to transfer that solder paste onto the PCB.
Can you apply soldering paste without an SMT stencil?
Yes, but because of the precision required, trying to apply soldering paste everywhere it needs to go on the board by hand can be an extremely time-consuming, painstaking process. Furthermore, you cannot get the consistency when applying soldering paste by hand that you will get using a single SMT stencil. It's important to consider that the chances of error are much greater when applying soldering paste by hand.
When applying soldering paste by hand, or trying to apply it without a perfect stencil you could face some very serious problems, like:
Short circuits
Voids in the soldering process
The desired printed result requires:
Smooth and burr-free side walls of the apertures
Flat, unstressed material
Uniform tension distribution over the entire surface
Precision in position and size of the apertures
Low Cost and Quick Turn PCB Stencil Maker
For the PCB SMT assembly process to proceed normally, we must ensure that Solderpaste Stencils are flawless.
At JHYPCB, we provide top 100% laser cutting SMT molds at competitive prices. Moreover, we use the latest technology and experienced technicians to offer perfect prototype PCB stencil, laser SMT stencil, framed and frameless SMT stencil, etc.
Solder Paste Stencil Types Available From JHYPCB
We offer the following SMT stencil products:
Prototype PCB Stencil (Low-volume manual printing. Ideal for prototypes)
A prototype stencil features the design you specify using a CAD or Gerber file.
When prototyping dictates fast action with minimal cost, our prototype stencils are the best solution. Prototype Stencils gives you a quality stencil and framework so you can handle assembly from the convenience of your own desk.
Prototype SMT Stencil Features:
Precise manual SMT stencil: Alternative to hand soldering reduces the potential for errors.
Specifically designed to manually print solder paste onto printed circuit boards.
Eliminates tedious hand soldering of prototype circuit boards
Reduced prototype assembly time: Quick alignment and printing increase efficiency.
Eliminated need to use a machine: Hand-printing application requires no machine setup.
Ultimate cost-effectiveness: Efficient design results in affordable price.
Ease of use: Alignment tools allow for an easy-to-understand printing process.
Allow quick alignment for repeatability
Prototype SMT stencil, also called  Desktop Stencils, is a simple stencil that is commonly used for circuit board assembly of prototype boards by hand.
High Precision SMT Laser-cut Stencil​
The openings are lasered on 100% stainless steel. Generally speaking, this kind of stencil can be produced with high quality and a high degree of precision within a short time.
Laser cutting stencil has the most comprehensive scope of application and is also the most used in the SMT industry.
Delivery Time: 1 day
Advantages: high accuracy; barely influenced by objective elements; trapezoid opening beneficial for demoulding; suitable for accurate cutting; reasonable price.
Disadvantages: relative low manufacturing speed.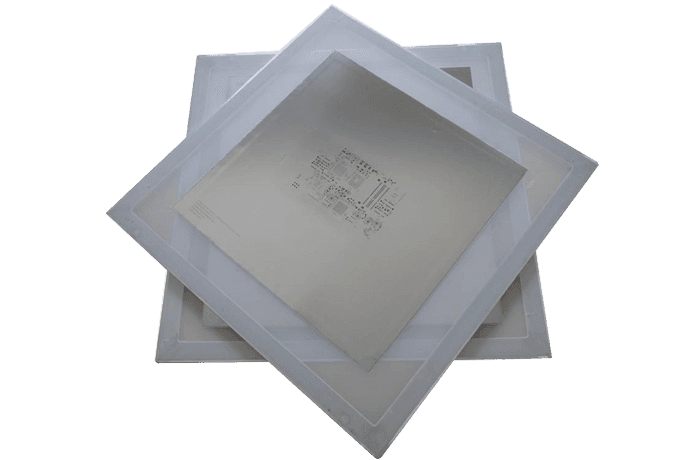 Framed SMT Stencils (Also called "Glue-in" or Mounted Stencils)
Framed stencils are laser-cut stencils designed for high volume screen-printing. With a framed stencil, your stencil is securely mounted to either a cast or extruded aluminum stencil frame a stencil frame using a mesh border, allowing for complete control.
Framed SMT Stencils feature a permanent stencil frame. A mesh border keeps the stencil foil stretched taut for optimum accuracy. These stencils have benefits such as:
Unique Process for smooth aperture walls
Very clean laser-cut apertures
Excellent print performance
Excellent for high-volume stencil printing on printed circuit boards
Unique process creates permanent non-removable non-fading fiducial
All framed SMT stencils are double bonded to extreme wear
24-hour turnaround standard
Because of its durable engineering, a framed SMT stencil suits high-volume printing applications. We recommend this product for production runs that require long-term use. Consider choosing a framed stencil when you plan to create a large number of PCBs over an extended period.
Framed SMT stencils, also known as glue-in stencils
There are two types of Frameless SMT Stencil:
Frameless SMT Stencil – Foil/Plate Only (for universal frames)

Foil or Plate Only stencils are designed to work within interchangeable plate or "universal" systems. Also referred to as "reusable", these stencils do not need to be permanently glued into a frame.

Frameless SMT Stencil – Foil/Plate Only (for hand printing)

For times when you need precise control for smaller production runs, our Foil or Plate Only stencils are ideal. These frameless stencils allow you to hand print with precision just the amount you need and can be stored conveniently.
Frameless SMT Stencil Features:
Reduced storage space requirements
Significantly less expensive than framed stencils
Use of fewer materials suits eco-friendly production methods.
Excellent for prototype Printed Circuit Board Assembly or short runs
Smooth aperture walls, can be used for 16 Mil pitch and below and for Micro BGA's
Compatible with screenprinting and hand-printing: Versatile format allows for printing with a machine or squeegee.
24-hour turnaround standard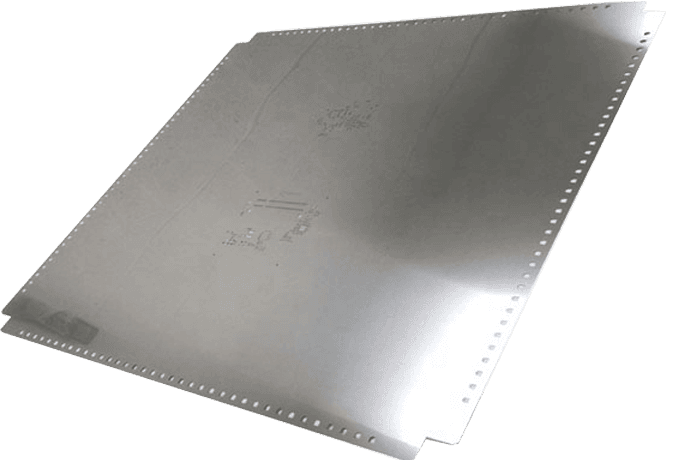 Unframe SMT Stencil
Frameless SMT Stencils also referred to as foils are laser cut solder paste stencils designed to work with stencil tensioning systems known as reusable stencil frames. This type of stencil does not need to be permanently glued in a frame. Frameless stencils are significantly less expensive than framed stencils and provide money-saving storage while still delivering superior quality and performance.
At JHYPCB, in addition to the SMT stencil we introduced above, we can also provide:
Nano SMT Stencils
Microporous SMT Stencils
Chemical-etch Stencils
Framed Electroformed SMT Stencils
Unframe Electroformed SMT Stencils
Framed Multi-level / Step Stencils
CPF Stencils
Stainless Steel SMT Stencils
BGA Rework Stencils
Quick-turn Rework Stencils
Leaded Device Rework Stencils
About our PCB SMT Stencil manufacturing capacity, please click here.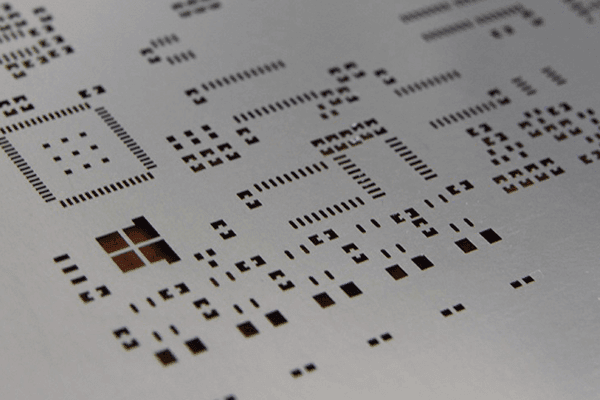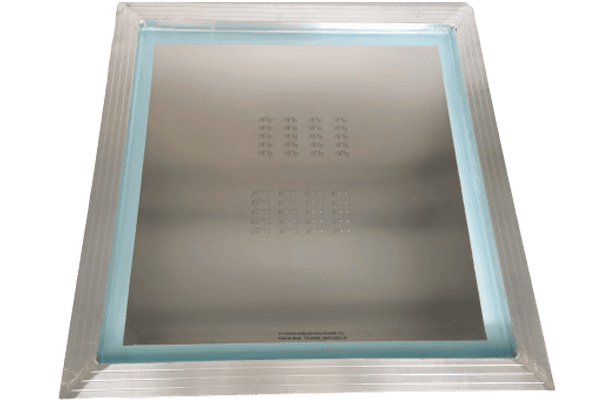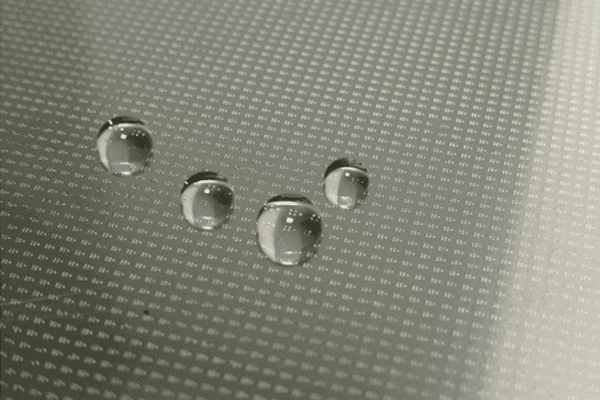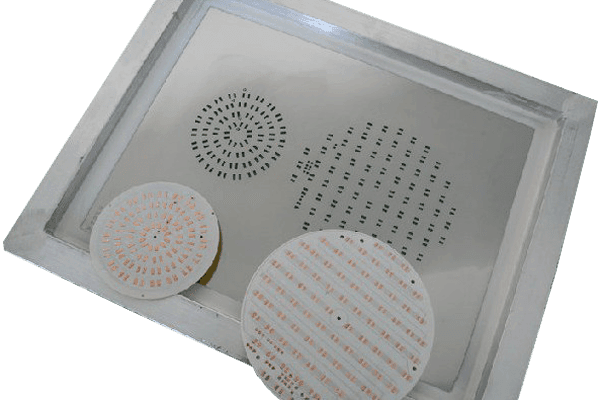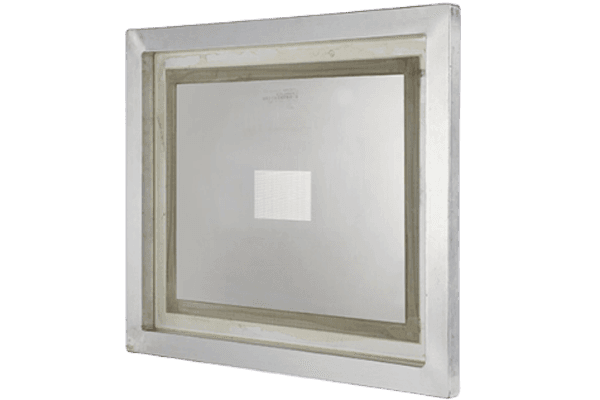 SMT Stencil for PCB Assembly Manufacturing
JHYPCB is an excellent PCB SMT Stencil manufacturer. We have advanced PCB Stencil laser cutter, machine equipment, and experienced and skilled technical workers. We have a production management system that keeps pace with the times and continuously upgrades/updates the manufacturing process to maximize and guarantee the perfect quality of the product.
Circuit Board SMT Stencil Make Process

Production and Testing Equipment