Design for Manufacturability and Assemblability of Printed Circuit Board
I. What is Design for Manufacturing?
Design for Manufacturing-also known as concurrent or simultaneous engineering or design for manufacturing.
DFM mainly studies the relationship between physical design of product themselves and various parts of manufacturing systems, and applies it to product design, so as to integrate whole manufacturing system for overall optimization. DFM can reduce development cycles and product costs, so that they can be put into production more smoothly. DFM can reduce costs, shorten time for products to be put on markets, improve product quality, improve product manufacturability, shorten production time and improve work efficiency.
DFM is not only a set of specifications for use and design review, but also is interdepartmental system activities to manage through processes and specifications and to integrate concepts through technologies! The design includes product design, development process and system design. In the process of product design, it is necessary to consider functional and performance requirements, as well as factors related to each stage of whole life cycle of products, including manufacturability, efficiency and economy, etc.
Design for manufacturing (DFM) refers to meeting design, processing or manufacturing conditions required for maximum benefits of products, as well as all parts or product designs that affect or support their external conditions.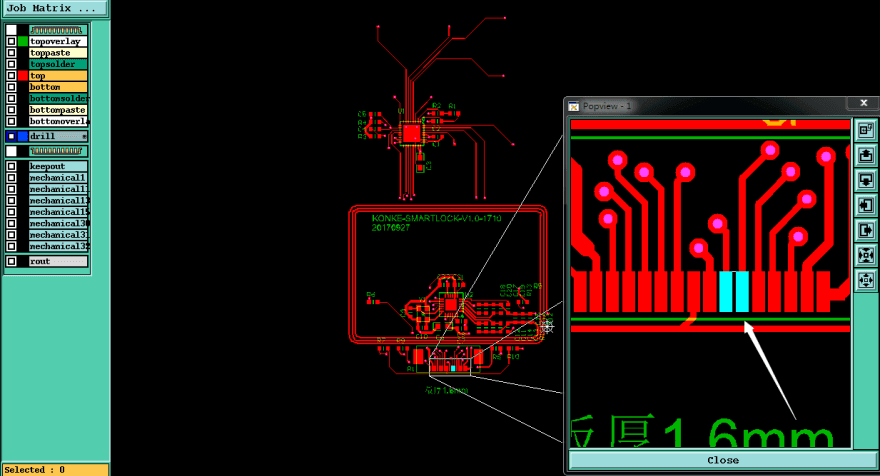 JHYPCB provides free and professional design for manufacturability of PCB inspection service of PCB, upload PCB file now.
The significance of design for manufacturing:
It can reduce costs and improve product competitiveness.
It is conducive to standardization and automation of production process and improvement of production efficiency.
It is conducive to technology transfer, simplifying product transfer process, and strengthening cooperation and communication between companies.
DFM is the basis of new product development and testing.
It meets the increasingly complex challenges for electronic assembly new techniques.
The process and method of design for manufacturing:
DFM series of specification documents are prepared.
While product design is planned, DFM checklists are prepared in accordance with DFM specification documents of companies.
DFM reports are made.
DFM testing is carried out.
DFM analysis and evaluation are carried out.
II. Manufacturability Analysis
Manufacturability analysis, i.e. manufacturability review technology, refers that designers evaluate product manufacturability in the product design phase with the help of a set of tools and relevant knowledge bases, and modifies design on the premise of ensuring product function and quality, so that product design meets requirements of manufacturing process and has good manufacturability. DFM is mainly used to analyze efficiency, costs and manufacturability of products by manual means.
2.1 Software selection indicators for manufacturability analysis
DFM software mainly is considered to meet the following technical indicators:
Whether supported inspection rules are comprehensive.
Whether software is easy to learn and use.
Whether stability of software operation is reliable.
Whether software suppliers respond to the feedback needs of customers quickly.
Whether software suppliers provide a good quality of services.
Whether software meets confidentiality requirements.
Whether to support BOM data in Excel and text format.
Whether to support verification of CAD and BOM data.
Whether to support manufacturability analysis of PCB bare boards.
Whether it has built-in library tools to create new component library quickly and easily.
Whether to support authority management of component library/rule library.
Whether inspection rules can be set in accordance with existing rules of customers.
Whether manufacturability analysis reports in Excel / PDF format can be output.
Whether to support customized development.
If there is no DFM software support, we can also create DFM checklists in accordance with DFM specification documents of companies. Checklists are a tool for systematic and comprehensive analysis of product design, which should include inspection items, treatment of key links, etc. In terms of content, they mainly include the following information:
Product information and data (such as circuit schematic diagrams, PCB diagrams, assembly diagrams, CAD structure files, etc.)
Selection of general manufacturing process: AI, SMT, wave soldering, manual welding, etc.
PCB dimension and layout.
Selection of components and design of pads and through-holes.
Design of process edges, positioning holes and datum points for production.
Performance of various requirements for mechanical assembly.
Finally, DFM reports are generated, which reflect problems found in whole design process. They are similar to audit reports in ISO9001, which mainly issue unqualified items in design in accordance with DFM specification documents and checklists. Their contents must be intuitive and clear, reasons for disqualification should be listed, and even requirements for correction results can be given. DFM reports are generated at any time and run through whole design process.
III.The Significance of Manufacturability Analysis
1) It can strengthen design verification and improve yield of product processing
Analysis software of electronic design for manufacturability eliminates most of the PCB process and production assembly problems at the front end of design, thereby significantly reducing repeated iterations caused by assembly problems, and considerably reducing delays in design cycles. DFM manufacturability analysis software can help us improve manufacturability analysis in the design phase and solve design defect inspection and analysis of new products. Software analysis can significantly improve product manufacturability, and reduce hidden problems of product quality caused by design defects and subsequent product maintenance, thus eliminating most of the PCB process and production issues of assembly at the front end of design. Meanwhile, software analysis can improve the efficiency of DFM inspection, save labor costs, and shorten manufacturability analysis time that is several days in the past to several hours.
2) It can improve design platforms
Introduced design platforms include schematic diagram design, component center library management, PCB design, constraint management center, signal integrity simulation, document management, etc., but lack software of electronic design for manufacturing. Therefore, the introduction of DFM software enables design and verification to form a closed loop to ensure that design is correct, thereby shortening the design cycle in terms of process and ensuring the reliability of products. Meanwhile, professional DFM analysis software requires technicians who do not need to have rich experience in many aspects and can rely on detailed analysis rules to make up for lack of knowledge.
IV.Main Features of Manufacturability Analysis
The application of DFM technology in the development process of electronic products can change traditional development modes, let technologists fully participate in the design phase of new models. Through the rules of manufacturability analysis, it can quickly and intelligently find possible problems in the manufacturing, thereby making predictive decisions, and greatly improving R & D level of equipment, achieving right first-time success, reducing costs, shortening product development cycles, and improving equipment quality.
Guideline/Reference Materials
IPC-2221(L)
CPCP/JPCA-PCB01-2006
IPC-4101
IPC-D-300G
IPC-A-600F
Download the "Design for Manufacturability Checklist"