What is flexible PCB prototype?
Flexible PCB Prototyping is the perfect choice for your electronic needs (commonly used in ATM keypads, printers, and wearable electronic products). It is widely used in various industries, including consumer electronics, medical, aerospace, communications, military, transportation, industrial and automotive. Flexible PCB Prototyping uses a naturally flexible substrate material with a high-temperature resistance to develop samples of an advanced electronic product in the electronics industry. Polyimide is used as the primary substrate material in manufacturing flexible PCBs. Flexible PCB Prototyping is an excellent inclusion to the technology and electronics industry as its lightweight and takes less space.

Flexible PCB, also called flex circuits, or flex prints is an advanced PCB (Printed Circuited Board) that can be twisted, folded, or bent into any desirable shape. Flexible PCB was initially introduced in 1950 in the electronic industry for two primary reasons: For electronic products to be easily placed in irregular spaces, e.g., Keypads, and the utilization of flex in electronic products such as intelligent wrist-watches. It is expensive and has a wide range of applications in industrial electronics. Its flex designs consist of a transparent film of polyester or polyimide as the substrate Material with high heat and temperature resistance, making it suitable for soldering and assembling components.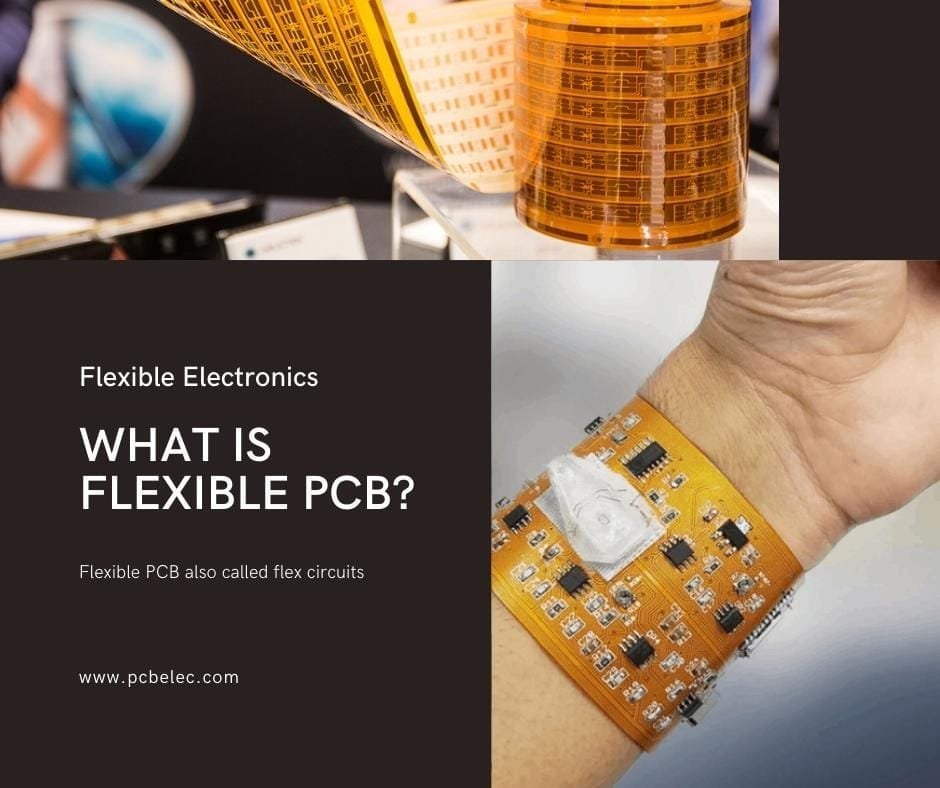 At first, PCBs were manufactured using rigid substrate materials, which made PCBs available only in hard designs (card/board shaped). With the advancement in technological research, scientists considered it necessary to design PCBs that can be easily twisted or bent to be placed in inaccessible areas. Hence the concept of Flexible PCBs was developed.
Advantages of Flexible PCB Prototyping
The following are the advantages of Flexible PCB Prototyping over PCBs, making Flexible PCBs among the most critical technologies utilized in advanced electronic devices.

Small size
This is the primary advantage of Flexible PCBs, which are adjusted and rolled into small spaces in certain situations. Flexible PCBs have negligible thicknesses like paper.
Lightweight
Flexible PCBs are light-weighted as they have no substrate core (cardboard) present. The weight of a flexible PCB is due to the presence of Surface Mount Devices (SMD) soldered to the PCB through surface mount technology.
High Durability
Flexible PCBs are durable if treated with care as flex circuits are designed by experts under precise and practical conditions. Flexible PCBs are also coated using formulated materials. This enhances its durability.
High Temperature
Flexible PCBs have high-temperature resistance. This makes Flexible PCBs widely used in the oil and gas industry, where rigid PCBs can easily melt out. This depends on the type of material used in the design of the PCB.
Enhanced Capability
Flexible PCBs help improve the performance of the electronic product by increasing its component density. It allows more electronic circuitry to the devices, enhancing the products' capabilities.
Can You Get Design For Manufacturability Services Regarding Flexible PCB Prototyping?
Design for manufacturability services regarding Flexible PCB Prototyping can be obtained. You can depend on us to ensure that your prototype is closest to the actual and final product.
Why Is Flexible PCB Prototyping Important?
Flexible PCB Prototyping enables the design of flexible boards that can be easily bent or folded into any shape-the reason why flexible PCBs are suitable for applications requiring high accuracy, improved performance, regular flexing, and precision. Flexible PCB Prototyping is commonly used in cameras, fuel pumps, antilock brakes, ultrasound probes, medical devices, avionics, satellites, semiconductor test, motion systems, manufacturing devices, barcode equipment, airbag systems, battery packs, etc.

Flexible PCB Prototyping is important for the following reasons:
1. Addresses the problem of packaging
Flexible PCBs creates designs that specifically solve interconnection related problems
Its forms allow the reduction of packaging sizes
Flexible PCBs makes repair and installation cost-effective and practical
2. Reduces assembly costs.
Flexible PCBs can be analyzed and tested before the circuitry components are assembled.
Elimination of solder joints and connectors and solder joints reduces costs.
3. Replaces wires and circuit boards
Flex circuits make the design of electronic systems and products simple.
Flex circuits minimize the number of interconnections required for an electronic package.
Flexible circuits reduce and eliminate common human errors in assembling wires as routing the wires is determined through artwork and repetition is assured.
4. Reduces space and weight.
Considerable reduction in weight is of a more significant benefit than wires.
Thickness of flexible PCBs can be as small as 0.10mm.
5. Dynamic Flexing
Its thinness and lightweight make flexible PCB suitable for numerous flexible electronic applications.
6. High-temperature application/Thermal management
Flexible PCBs dissipate heat easily and better compared to any dielectric material while offering the added advantage of improved flexibility.
7. Aesthetics
Flexible PCBs improve the appearance of internal electronic packages internally. This influences consumers' decisions on the product.
How to Identify the Right Flexible PCB Prototyping Partners?
Flexible PCBs have become common recently. Flexible PCBs have an advanced manufacturing procedure compared to regularly printed circuit boards due to their complicated nature. Thus, you need to identify the right Flexible PCB Prototyping partner with highly skilled and professional staff, good manufacturing processes and equipment (including quality testing and assurance), acceptable industry standards, etc. Consider the following to identify the right Flexible PCB Prototyping partner: Do they have the right Flexible PCB Fabrication Tool and Equipment?
Certifications and Standards
Do they have a Flexible PCB Technician?
Quality and attribute of the Flexible Circuit Company
The Price of the company's Flexible PCB
What is the company's capability to design your Flexible PCB (according to your desired form factor and shape)
Flexible PCB Testing
Ability to supply various types of components
Evidence of a proven model for successful productivity
Flexible PCB Prototype Fabrication Capability
JHY is a Professional China Manufacturer and Supplier of flexible PCB prototypes. We offer Custom flexible PCB prototype Contract Manufacturing. Contact us now to get the best quotation for a flexible PCB prototype. We will respond promptly, maybe we are not the lowest price of flexible PCB prototypes, but we will provide you with better service.
| | |
| --- | --- |
| Features | Capabilities |
| Layers | up to 10 Layers |
| Types of Flex PCBs | Single-Sided Flex PCB, Double Sided Flex PCB, Multilayer Flex PCB, Rigid-Flex PCB, Heavy Copper flex circuit boards |
| Materials | PI, PET, FR-4, Polyimide (Kapton), Adhesiveless Copper Clad Base Material, High-Performance Epoxy Laminate, and Prepreg, and High-Performance Polyimide Laminate and Prepreg. |
| Finished Board Thickness | 0.05mm -1.6mm |
| Min. PTH size | 0.1mm |
| Panelization Size | 250*510mm |
| Copper Weight (Finished) | 0.5oz – 2.0oz |
| Surface Finishes | OSP – RoHS, Immersion Gold, Immersion silver, Immersion Tin |
| Min Tracing/Spacing | 0.065mm/0.065mm |
| Other Techniques | Peelable solder mask, Gold fingers, Stiffener (only for PI/FR4 substrate) |
Final Words on Flexible PCB Prototyping
The need for flexibility of an electronic printed circuit board that fits into any shape gives rise to the development of Flexible PCB Prototyping which has found a wide application in various industrial applications such as avionics, medical, consumer electronics, etc. Flexible PCBs are used in the oil and gas sector, manufacturing flexible PCs keyboards that can be easily folded into your laptop bag, ATM keypads, and motion systems.
JHYPCB is a professionally printed circuit board manufacturing expert. We provide our customers with various PCB prototypes and small and medium batch manufacturing and assembly services. If you need help, please feel free to contact us at the email address: sales@pcbjhy.com.