Fast Prototype PCB Assembly Service
Low Volume Fast Prototype PCB Fabrication and Assembly Services China Manufacturer
We offer trusted PCB prototype assembly services to go along with our high-quality PCB fabrication and component sourcing services. This includes quick turnaround, affordable prototype PCB assembly, and perform comprehensive testing to ensure they meet your precise performance requirements. We can provide a full turnkey and partial turnkey PCB prototype assembly featuring a one-stop shop approach that saves you time, money, and hassles.
What is Prototype PCB Assembly?
A PCB assembly is the final product that has components installed on the PCB. Often, we are not sure of the results of the new designs and amendments; therefore, it's better to order a prototype to evaluate the design and check for errors or any further amendments. A prototype PCB assembly is a testing assembly that is ordered before large batch production. It is used for testing purposes, and after satisfaction, mass production is carried out.
It is important to order a PCB prototype assembly to save money and time. If there is any problem with the prototype, it can be rectified without any hassle. In contrast, if there is any problem with mass production, your money and time will be wasted.
Usually, PCB prototype assembly is in low volume. You can even order one piece; it is commonly less than 30 pieces.
At JHYPCB, we are committed to providing you with fast and convenient prototype PCB assembly services to ensure that the PCB design can be quickly and effectively verified, thereby promoting mass production and project delivery. You can order as many PCBA as you need; there is no minimum order requirement. You only need to provide PCB Gerber, BOM (Bill of Materials), and special process requirements. Moreover, you can enjoy the following high-quality PCBA electronic manufacturing services:
Fastest 3 days rapid prototype manufacturing service (including PCB fabrication, purchasing of materials, SMT and dual in-line package, and testing)
The cost is at least 20% lower than the market price.
Free DFM (Design for Manufacturability) check
Electrostatic bag+bubble or bag+carton safe packaging
Our Prototype PCB Assembly is a specialized service. JHYPCB has strong technical strength and rich experience accumulation. We provide you with single-sided PCB, double-sided circuit boards, and multilayer printed circuit board assembly services. Our team can provide customers with the following packaged components:0402, 0603, 0805, 1206, 1210, 1812, BGA, CSP, PLCC, LGA, QFN, QFP, TQFP, QFN, PLCC, SOT, SOIC, etc.

Benefits of PCB Prototype Assembly
The reason for ordering a PCB prototype, it's because is that you want to quickly assess how well your PCB design is going to work.
Specifically, the benefits of prototype PCB assembly include the following:
Proof of concept
Gain a better perspective
Detect Flaws Early
Test Components Individually
Reduced Overall Costs
Develop familiarity
Authentic Representation of Standard PCB Performance
Why Choose us for prototype PCB assembly?
Prototype PCB assembly is integral to the electronic manufacturing process. It helps determine how harrowing or easy the production of high-volume PCB assembly will be. you must choose a PCB assembly service manufacturer who can deliver your boards on time and within the specified deadline.
Prototype PCB Assembly Engineering Services: DFM, DFT
Full Feature PCB Assembly Services: NPI, SMT, THT, Mixed Technology
PCB Assembly Testing: Flying Probe Testing, Functional Testing, In-Circuit Testing(ICT), Burn-in Testing, Conformal Coating
Fastest Turnaround Times
Competitive Pricing and Quick Quote
Reliability
Turnkey Prototype PCB Assembly Service
Turnkey prototype PCB assembly is one of our main businesses. With our expertise in electronic manufacturing services, extensive experience, and complete supply chain resources, we can smoothly complete all the work for you from prototype PCB manufacturing, and component sourcing to the circuit board assembly.
We accept full turnkey, and partial turnkey (consigned or kitted) parts assembly projects and are not subject to MOQ. You can choose any of our assembly services; of course, we recommend turnkey assembly because:
1. Save time
Purchasing components takes a lot of time and effort, and entrusting the task of component sourcing to us can save you a lot of trouble, and you can spend more time and energy focusing on your design.
2. Cost savings
Our component sourcing team will deal with as many component distributors as possible and complete component sourcing in the best and most cost-effective manner.
3. Specialization
Our dedicated electronic engineering team can recommend replacement parts when the required part in the BOM is no longer available and the original manufacturer has no production plan.
How to order a prototype PCB assembly?
It is essential to provide the required files and documents for fast prototype PCB assembly. The buyer must give everything to ensure on-time delivery. You need to provide the following things while taking the PCB prototype assembly service.
a)Gerber files
Gerber files are essential, whether you need PCB or PCBA. It provides the information of your PCB design.
b)Pick and Place File
The components are placed in specific places. There is a designated place for each component; therefore, it's necessary to place them in the right place. Pick and place file contains the information of components and their placement. The components are placed according to the XY coordinates and rotation mentioned in the file. The file guides the machines to place the right component at the right place.
c)Bill of Materials (BOM)
The Bill of Materials includes the complete information regarding components used on the PCBA. It usually has Manufacturer Part Number, Manufacturer's Name, Designators, Quantity, Description, and Value. There can be other details as well. It is essential for the procurement of components.
d)Special Technical Process Requirements (If any)
You need to provide special requirements for the PCBA. If you want anything to be emphasized, mention it while placing the order.
e)Assembly Drawing
The assembly drawing is a blueprint of the PCB board that tells the manufacturer about the design of the board. It contains various information, including board outline, part shapes, mechanical parts, drill locations, additional views, manufacturing labels, assembly notes, parts list, and a few other things. This file is not essential, but it is better to provide it to the manufacturer. The designer only knows how he has made the design, but an assembly drawing guides the manufacturer in assembling the PCB.
Prototype PCB Assembly Cost
Prototype PCB assembly at a competitive price
The cost of a PCB assembly depends on various factors and services. It includes the charges of different services. Some of the costs that are included in the total cost of a PCBA prototype are,
PCB fabrication cost
Stencil cost
Component procurement cost
Assembling cost
Welding cost
Testing cost
Packaging cost
You don't need to worry about the factors, services, and cost; provide us the required details, and we will provide you a reasonable cost. At JHYPCB, the cost of the PCB Assembly is 20% lower than other Chinese prototype PCB assembly service providers.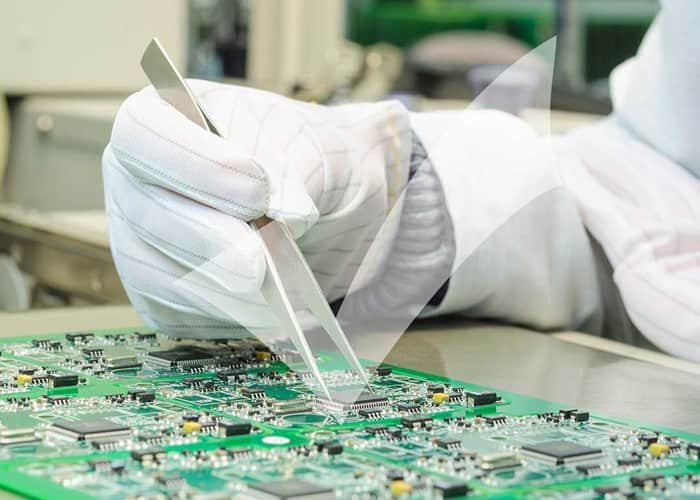 Quick Turn Prototype PCB Assembly Service
We understand it is important to provide fast PCB prototype assembly service for the quick evaluation of the design and fewer delays in mass production. The time for the delivery of PCB assembly depends on various factors, such as component procurement, PCB fabrication, placement of components, testing, packaging, shipping, etc.
Time Details of Low Volume Prototype PCB Assembly
Components procurement and PCB fabrication are generally carried out simultaneously. PCB production takes 3-10 days, and component procurement takes 2-15 days. The arrival time of components is relatively uncertain. SMT and DIP take 3-5 days in total, the PCBA test generally takes 1-3 days, and finished product assembly takes 2-5 days.
The PCBA processing process is relatively complicated and involves many processes. Generally, for small and medium-sized orders, the PCBA assembly processing cycle takes 25 days.
Turnkey PCB assembly service is what we are good at, even for prototype assembly. Our customers can benefit from JHYPCB PCB prototyping, parts sourcing, and PCB assembly services. You will get all PCB services under a single roof at JHYPCB. Our ISO, UL, and RoHS certified quality management systems ensure high-quality products. We are always ready to process low volume prototype PCB assembly and low-medium PCB and PCBA services. For more information, feel free to contact us.