PCB Fabrication Process Flow Chart
What are the PCB manufacturing process steps?
How to build a multilayer and double-sided printed circuit board?
25 steps to manufacture a printed circuit board.
PCB, or printed circuit board, is an important electronic part and the support body of electronic components. Because it is made by electronic printing, it is called "printed" circuit board.
Electronic products in the production process, there will be a printed circuit board production process. Printed circuit boards are used in electronic products in all industries. It is an electronic schematic diagram can realize the design function of the carrier, let the design into physical products.
PCB production is a highly professional and complex process. Not only involves advanced production equipment, advanced production process, but also needs professional engineering and technical personnel and excellent production management system.
As it happens, JHYPCB is just the professional PCB manufacturer you need.
Are you ready to get a quote?
PCB Fabrication Process Flow Chart
Click on the image to view a larger image or download it.
Detailed schematic diagram of PCB manufacturing process
1, Preparation and process before PCB production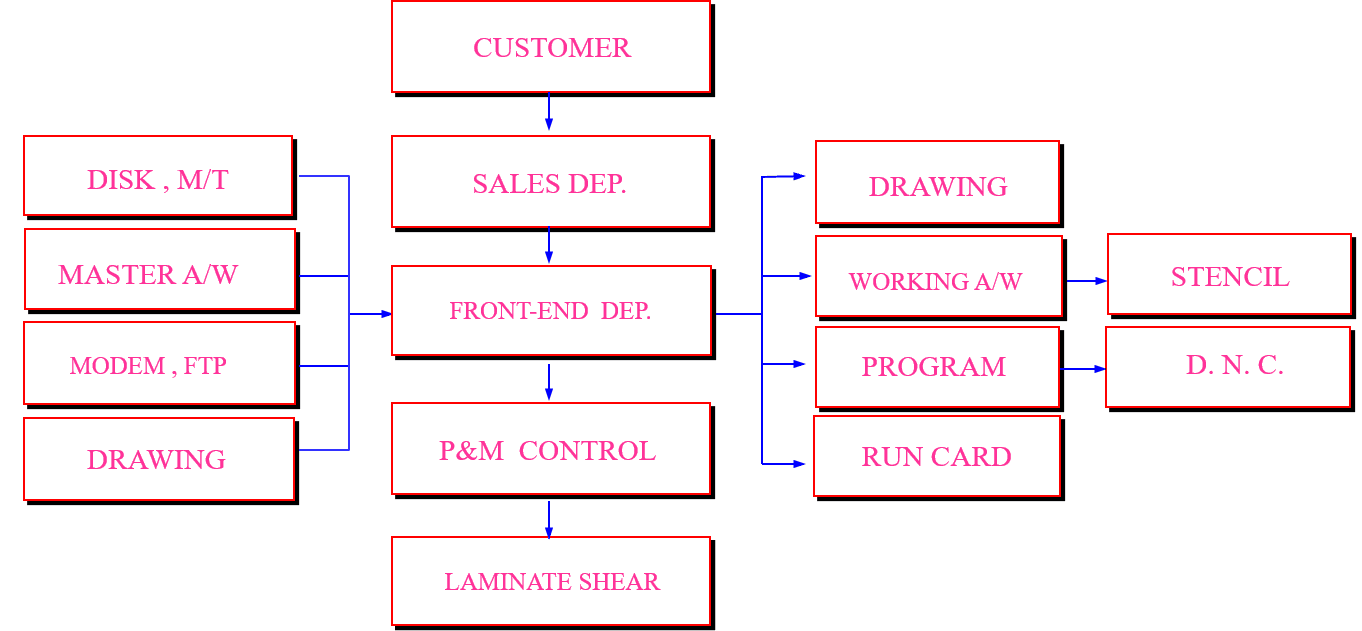 2, Multilayer PCB inner layer manufacturing process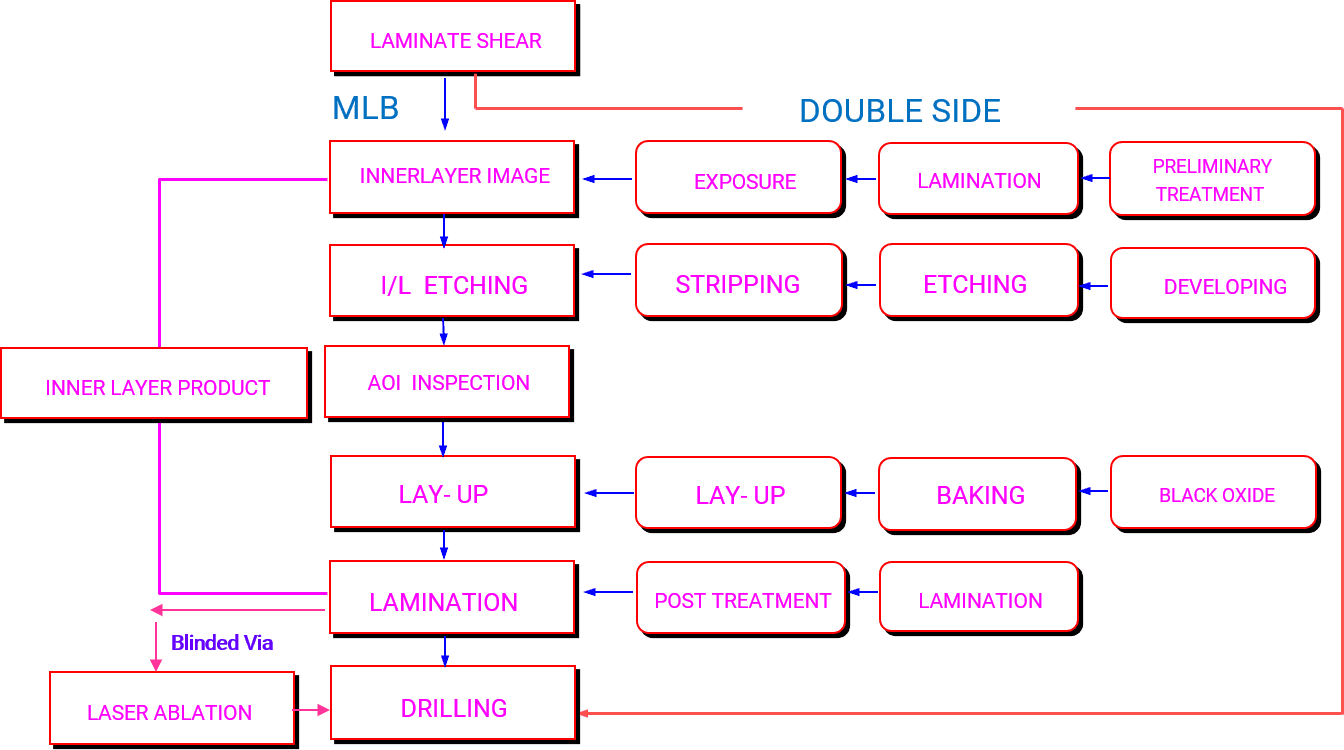 2.1, PCB Materials and Cut Laminate
2.2, Inner Layer Image Transfer-Paste Film
2.3, Inner layer image transfer—Exposure
2.4, Inner layer image transfer—Developing
2.5, Inner layer image transfer—Etching
2.6, Inner layer image transfer—Stripping
2.8, Laminating - Lamination
2.10, 5.PTH(Plate Through Hole)
3, Multilayer Printed Circuit Board Outer-layer Manufacturing Process
3.1, Outer-layer Image Transfer - Paste Film
3.2, Outer Layer Image Transfer—Exposure
3.3, Outer Layer Image Transfer—Developing
3.4, Pattern Plating-Copper plating+Tin plating
3.5, Outer Layer Etching-Stripping
3.6, Outer Layer Etching-Etching
3.7, Outer Layer Etching-Tin Stripping
Surface treatment process includes: OSP|HASL|HASL Lead-Free (HASL LF)|Immersion Silver|Immersion Tin|Plated Gold|Immersion Gold(ENIG)|ENEPIG|Golden Finger+HASL|ENIG+OSP|ENIG+Golden Finger|OSP+Golden Finger, etc.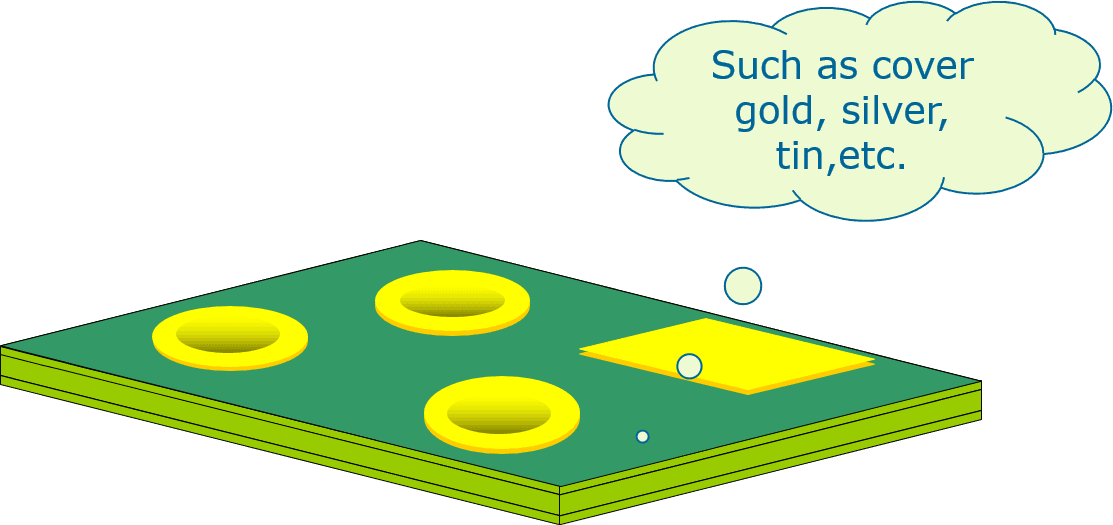 4, External View and Molding Process Flow Path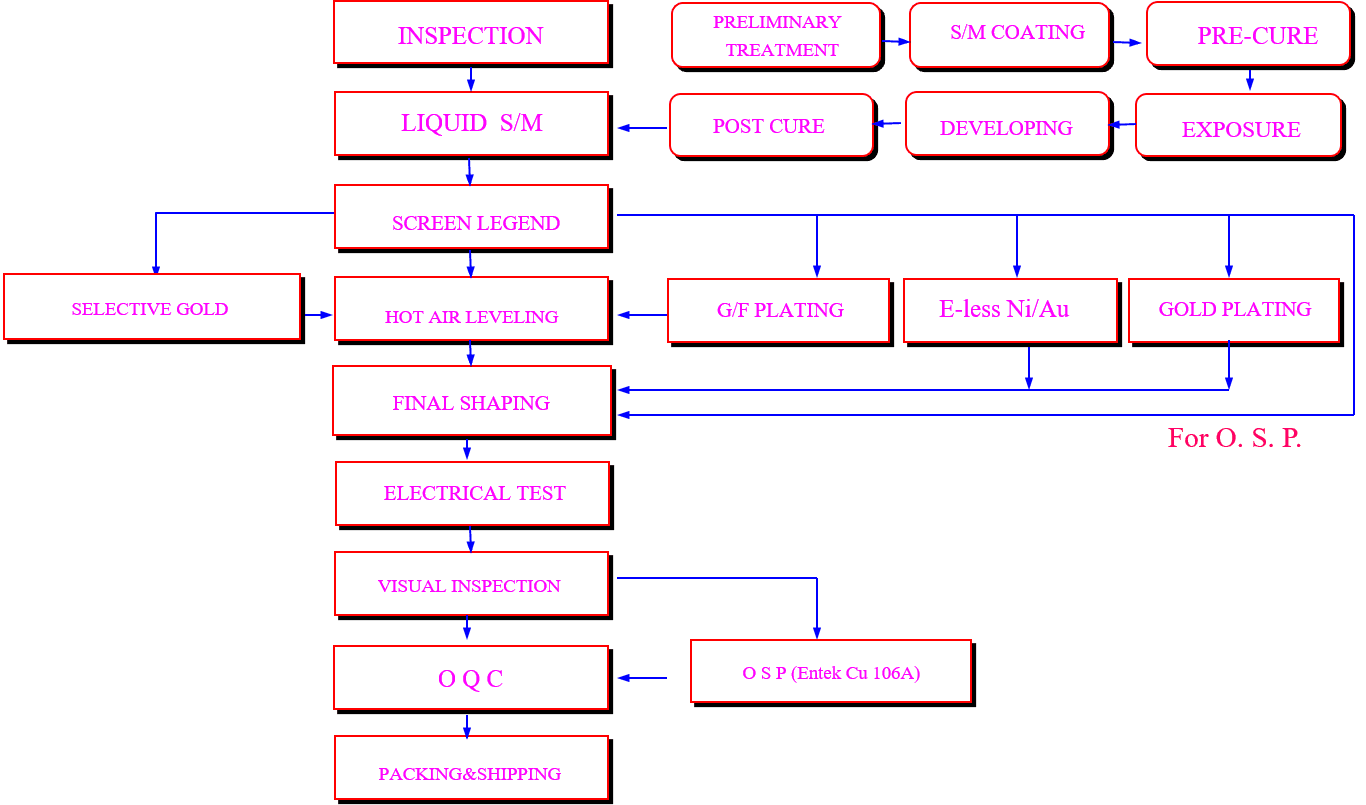 1) Inner Layer
> Chemical Clean
> Cut Sheet Dry Film Lamination
> Image Expose
> Image Develop
> Copper Etch
> Strip Resist
> Post Etch Punch
> AOI Inspection AOI
> Oxide
> Layup
> Vacuum Lamination Press
2) CNC Drilling
> CNC Drilling
3) Outer Layer
> Deburr
> Etch back – Desmear
> Electroless Copper
> Cut Sheet Dry Film Lamination
> Image Expose
> Image Develop
4) Plating
> Image Develop
> Copper Pattern Electro Plating
> Tin Pattern Electro Plating
> Strip Resist
> Copper Etch
> Strip Tin
5) Solder Mask
> Surface prep
> LPI coating side 1
> Tack Dry
> LPI coating side 2
> Tack Dry
> Image Expose
> Image Develop
> Thermal Cure Soldermask
6) Surface finish
> HASL, Silver, OSP, ENIG, etc.
> Tab Gold if any
> Legend
7) Profile
> NC Routing or punch
8) ET Testing, continuity and isolation
9) QC Inspection
> Ionics
> 100% Visual Inspection
> Audit Sample Mechanical Inspection
> Pack & Shipping