Single-Sided PCB, Single Layer PCB Complete Introduction and Manufacturing Services
The Most Important Things You Need To Know About Single-layer PCB
A detailed introduction to single-sided circuit boards
Single-Layer PCB Definition
What is a Single Layer PCB?
When it comes to PCBs, they are named single-layer, double-layer, and multilayer PCBs. The number of layers in a PCB is the number of conductive or copper layers it has. PCBs also have other layers, such as the base layer, dielectric layer, solder mask, and silkscreen; however, the number of layers only represents the number of copper/conductive/circuit layers. Thus, a PCB with one conductive layer to create a circuit is known as a Single Layer PCB.
A Single Layer PCB is the simplest PCB as there is only one conductive layer. It is widely used in dozens of applications where we need a compact circuit. Among all types of PCBs, single-layer PCBs are preferred and the most purchased. Designers go for double-layer or multilayer PCBs when the circuit is quite complex and cannot be implemented on a single-layer circuit. Otherwise, a single-layer PCB is the first choice for any device, product, or project.
Express 1 Layer PCB Fabrication Service
JHY is a professional PCB manufacturer in China, providing full-featured PCB manufacturing services. Whether your project requires single-layer rigid PCB, single-layer flexible PCB, single-layer rigid-flex PCB, single-layer metal core PCB, or multi-layer PCB up to 64 layers, with our professional knowledge and rich experience in PCB manufacturing, we can provide you with a suitable one-stop solution.
Types of Single Layer PCB
It is a single-layer PCB made up of a rigid material such as fiberglass (FR-4). These PCBs are inflexible and prevent the circuit from bending. They are used in calculators, power supplies, etc.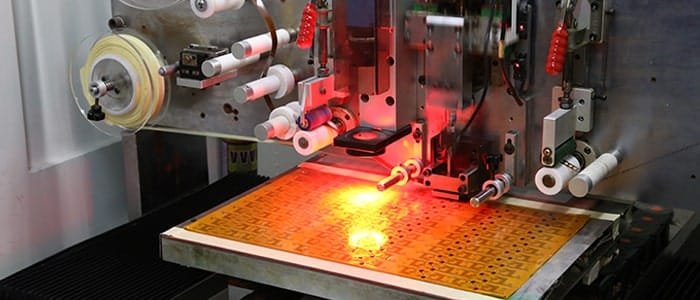 It is a single-layer PCB type made of a flexible material instead of a rigid one. It has many advantages over a single-layer rigid PCB, but its fabrication cost is very high.
Rigid-flex PCBs combine the rigidity of rigid PCBs with the flexibility of flexible PCBs and are widely used in many applications. Single-sided rigid-flex PCB is one of them.
It is a single-layer PCB used for high-frequency circuits. These PCBs are made of unique material. Common ones are Rogers, Taconic, Panasonic, Isona, Shengyi, etc.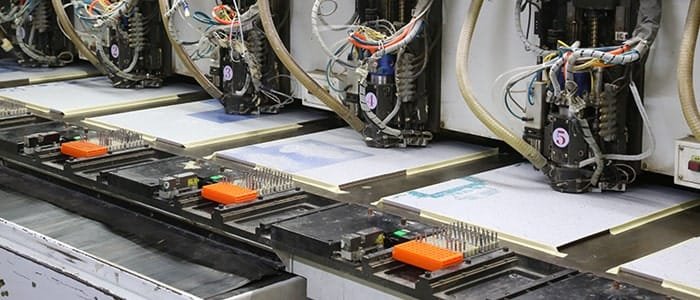 It is a type of single-layer PCB made from aluminum substrate. The design of this PCB is almost the same as copper-backed PCB, but the only difference is aluminum substrate is used instead of copper.
Single Layer PCB Benefits
What are the advantages of Single Sided PCB?
Simple Design: The design of a single-sided PCB is quite simple. There is only one conductive layer, so it is easy for the designers to create a design. There are fewer errors in the designing process, and the PCB is more likely to offer the desired results even in the first prototype.
Easily Available: Single-sided PCB is quite easy to manufacture as it has a basic design. You can easily find a single-layer PCB manufacturer in your city or country. All PCB manufacturers offer this service, so you can easily order anyone.
Low Cost: The cost of a single-layer PCB is lower than a multilayer PCB. It does not require high-end pieces of machinery as in other types of PCB. If you order in bulk, the price of the PCB is further reduced. A single-layer PCB is the best choice if you want to save costs.
More Reliable: The design of a single-layer PCB is simple, so it is more reliable. There are fewer chances of errors and faults. It offers excellent performance and high reliability. The long-lasting operation of the board and components is also ensured.
Easy Testing and Repairing: The testing of a single-layer PCB is easier than a multilayer PCB. The PCB can be easily checked by AOI, or X-ray inspection can be used in the case of BGA components. If there is any fault, it can be traced easily. Moreover, repairing a single-layer PCB is easier and simpler.
What are the disadvantages of Single Layer PCB?
Large Size (Extra Dimensions): In the case of multilayer PCBs, the circuit is distributed in all layers. Therefore, the circuit does not take much space on the board. Moreover, the circuit looks clean. On the other hand, the circuit of the single-layer PCB is present in one layer only. Thus, the circuit takes more space on the board; the board will be larger.
Cannot Deal with Complex Designs: If the requirement of your project is a complex circuit, you cannot implement it on single-layer PCBs. There are some limitations, so not everything can be achieved by a single-layer PCB.
Slow Speed: Single-layer PCBs offer slow speed and transmission as compared to multilayer PCBs. If you need high-speed, you need to go for a double-layer or multilayer PCB.
High Weight: The increased size and high component count ultimately increases the weight of a single-sided PCB.
Single-Sided PCB Applications
What are single-sided PCBs used for?
Single Layer PCBs are very common, and we are usually surrounded by dozens of devices that use single-sided PCBs. Some of the common devices that we see are,
Vending machines
Camera systems
Surveillance
Calculators
Printers
Solid-state drives
Coffee makers
LED lighting
Packaging equipment
Sensor products
Power supplies
Relays
Radio and stereo equipment
Timing circuits
Single-sided aluminum substrate and single-sided copper PCB are our most common single-sided circuit board applications.
There are dozens of applications where a single-layer PCB is used. As long as the desired results can be achieved by the single conductive layer, it is recommended and cost-effective to select a single-layer PCB instead of a multilayer PCB.
Almost all simple devices that we use contain a single-layer board. For complex applications and circuits, it is necessary to have more layers in the PCB.
Single-sided PCB Stack up
The stack up in a single-layer PCB is quite simple. There are only two primary layers, but if we count the total number of layers, including the solder mask, surface finish, and silkscreen, then there will be more layers in total. However, the important layers are only two layers: The conductive Layer and Base Layer.
The conductive layer conducts the signals and transmits the electrons. There is only one conductive layer in single-layer PCBs, and it is usually made of copper. Other materials, such as Gold and Silver, can also be used as a conductive layer, but Copper is the most cost-effective and feasible.
The base layer of PCBs can vary. The commonly used base layer is FR-4; however, metals are also used as a base material. The base layers provide a platform or base to all other layers. This is the foundation layer on which copper layer, silkscreen, and other layers are applied. PCBs can further be classified on the basis of the base layer.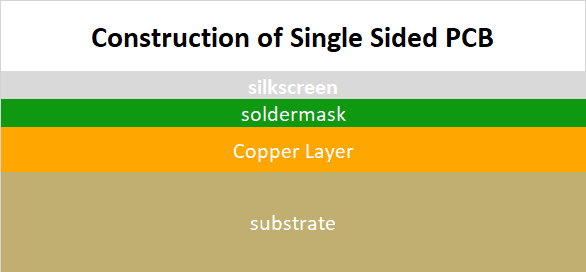 Single Layer PCB Manufacturing Process
How Single Sided PCB is Manufactured?
The manufacturing of a PCB is a long process. The PCB that looks like a simple board goes through more than a dozen machines to create a final product. For the ease of customers, PCB manufacturers define the process in simple words.
Single-sided PCB Manufacturing Process Flow Chart
Cutting – Cleaning – Drilling – Cleaning – PTH – Panel – Plating – Cleaning – Photolithography – Image Transfer – Inspection – Copper/Tin – Plating – Coating – Removing/Etching/Tin – Removing – Inspection – Cleaning – Solder – Mask – Exposure/Develop/Inspection – Prepreg – Screen – HASL – Conformal – Coating – Post – Soldering – Cleaning – Test – Final Inspection – Packing
1) Order Placement and DFM Check
2) PCB Board Cleaning and Cutting
3) Drilling and Cleaning
4) Electroplating
5) Copper Plating
6) Circuit Printing
7) Etching
8) AOI
9) Solder Mask
10) Silk Screen
11) Surface Finish
12) Flying Probe Test
1) Order Placement and DFM Check
Customers place orders and provide the important files required to create a PCB. They provide Gerbers and other essential files. PCB designers usually do not understand the nitty-gritty of the manufacturing process. They just create a design to get the desired results; however, it is important to understand the manufacturing problems that can be due to design. For this purpose, we run a DFM check on the files. Our experts look at the files and make sure it is according to the manufacturing requirements. If there is an issue with the design, we correct it or inform customers in the case of severe problems.
We offer a free DFM check at JHYPCB. If this check is ignored, there can be possible delays and unwanted errors in the production. Therefore, it often delays the final shipment. For timely delivery, a DFM check is more than essential. Once the PCB files are ready for the manufacturing process, the experts forward them to the next department.
2) PCB Board Cleaning and Cutting
3) Drilling and Cleaning
4) Electroplating
5) Copper Plating
6) Circuit Printing
7) Etching
8) AOI
9) Solder Mask
10) Silk Screen
11) Surface Finish
12) Flying Probe Test
Base Material for Single Layer PCBs
There are various base materials available for PCBs, and the buyer can easily pick any of them according to the requirement of the project. All bases have distinct characteristics, features, pros, and cons, so you need to decide which one is the best for your application.
The commonly used and demanded materials for Single Layer PCBs are,
FR-4
CEM
Teflon
Polyimide
Metal
Learn more PCB Materials

FR-4
CEM
PTFE (Teflon)
Polyimide
Metal
FR-4
FR-4 is the most commonly used PCB material. It is used in almost all types of standard environments and projects where it can perform well. It is made of prepregs that are created from fiberglass. The prepreg sheets are impregnated with the help of epoxy resin. Therefore, it is commonly known as glass-reinforced epoxy laminate.
FR-4 is also available according to the temperature it can bear. High-Tg FR-4 boards are available for applications where high-temperature stress is expected. These can even bear temperatures up to 200°C.
This material is widely used as it is cheap and excellent for most of the requirements. It has high dielectric strength as it is itself an insulator. Moreover, it is lightweight and temperature resistant. Due to its features and low cost, it is commonly used in the devices that we use in our daily lives.
FR-4 PCB boards are not suitable for high-frequencies and high temperature and pressure stress. In such conditions, metal core PCBs are considered.
Advanced Learning:
CEM
PTFE (Teflon)
Polyimide
Metal
Single Layer PCB Thickness
What is the Single-sided PCB Thickness?
Typically, the industry standard for PCB thickness is about 0.063 inches, which translates to about 1.57mm in metric units.
Today, PCB thicknesses range from 0.2032mm to 6.096mm.
The thickness of the printed circuit board affects the performance, function, and installation of the PCB. We need to choose and determine the most suitable PCB thickness for you according to the actual application and the size of the installation area.
PCB thickness varies. Usually, rigid PCB is thicker than flexible PCB; multilayer PCB is thicker than single-sided and double-sided PCB. Some devices require thicker PCBs, while others may require thinner PCBs.
Factors that determine PCB thickness include PCB weight, number of layers, size, copper thickness, trace thickness, board manufacturing process, flexibility, working environment, signal type, via type, etc.
As people demand smaller and smaller electronic products, PCBs are also shrinking. This also requires the circuit board to be light and thin to fit inside the device.
The Single Sided PCB Price depends on various factors. Some of the factors are primary, while some are secondary.
The first thing is the type of base material. You can choose metal, FR-4, PTFE, or any other material. Along with the type of the material, the thickness of the base also matters. Then, it is important to measure the size of the board and circuit. These two are the most important factors in PCB production. After that, you can consider the surface finish, copper thickness, via filling, tracing, holes, and some other factors.
Buyers also require PCB assembly services. In this case, you need to add the cost of the components and testing.
The cost of the PCB also depends on the order. High volume orders will give you less cost per piece. So, you can also reduce the cost if you have a bulk order.
What are the factors that affect the price of single-sided PCB?
| Primary or Fixed Production Costs | Secondary or Dependent Costs | Overhead Costs |
| --- | --- | --- |
| Board Size | Tooling | Facility |
| Number of PCBs produced in a production run | Layout – trace design, hole size, and hole count | Labor – salaries and benefits |
| Number of layers beyond double-sided | Lamination | Equipment |
| Lead time | Change needed from mechanical drill type to laser drill type | Raw materials |
| Hose size and count | Quality assurance | Chemical processes |
| Material type and thickness | Via fill | Waste water treatment |
| Layout | Fabrication | Regulatory permits |
|   | Finish | Production delays due to design or fabrication changes |
|   |   | Production failure due to bad design or flawed methods |
Single-sided vs Double-sided PCB: How to Choose?
Single-sided and double-sided PCBs are distinguished according to the number of conductive layers, and they are all made of FR4 and copper foil.
Double-sided PCBs enable more complex circuit designs than single-sided PCBs, but sometimes single-sided PCBs may be more suitable for your actual needs.
In terms of price, producing single-sided PCBs is more economical than double-sided PCBs.
Read this article to learn more about the difference between single-sided and double-sided PCBs.
Single-sided PCB vs. Multilayer PCB: What is the difference between?
1. The components of the single-sided circuit board are on one side of the board, and the circuit is on the other side of the board. Single-sided circuit boards are simple to manufacture and low cost and are only suitable for simple electronic products.
2. There are three or more layers in the multi-layer PCB, and the conductive pattern layer is separated by insulating material between two layers and then formed by pressing. Multilayer PCBs are widely used in more complex electronic products, providing high-capacity, high-speed, and multi-functional support for electronic products.
3. The single-sided PCB has only one side with the circuit, and the holes on the board are all non-metalized holes, and no electroplating is required in the single-sided PCB manufacturing process. The holes on double-sided and multi-layer PCBs are divided into metalized holes and non-metalized holes, and an electroplating process is required in the production process of the board.
4. The most essential difference between single-sided PCB and multi-layer PCB is the number of circuit layers.
Single Layer PCB Manufacturer
Buy Single Layer PCBs from JHYPCB
JHYPCB is one of the leading PCB and PCBA service providers in China. We have a large facility where we can handle small to large volume orders. We can provide any single-layer PCB, including metal core PCB, high-frequency PCB, flexible PCB, HDI PCB, impedance control PCB, and heavy copper PCB. There is no limitation on order; you can order one PCB as well. We offer quick prototype and assembly services under a strictly controlled management system. We are ISO, UL, or RoHS certified so that you can order with confidence.
For more information and details, feel free to contact our 24/7 customer support team.