Copper Based PCB, Copper Core PCB
Specializing in the production of high-quality copper-based PCB
PCBs are used in almost every industry, so there are different types of PCBs available according to the requirements. Nowadays, many applications require quick heat dissipation, high mechanical strength, and shape retainment in the PCB. All these features can be found in the metal core PCBs.
Metalcore PCBs are the best when it comes to heat dissipation. They have gained a lot of importance because of their heat dissipation feature. They can quickly dissipate the heat, which increases the components' lives and protects them from thermal stress. Today, metal core PCBs are widely used, especially in LED lighting and high-frequency applications.
There are commonly three types of metal core PCBs; aluminum core PCB, iron core PCB, and copper core PCB. These are used for different purposes, but the best of all is the copper core PCB. It is the most expensive metal core PCB, and it offers optimum performance.
Copper-based PCB or copper core PCB is a metal core PCB that uses copper as the base material in place of commonly used FR4. Like all metal core PCBs, it also has three main layers. The top layer is made of copper, which is responsible for the electrical connection between the components. This layer is standard in all types of PCBs. The second layer is the dielectric layer that prevents current from the top layer to the base layer. Although this layer is electrically an insulator, it is a good conductor of heat. It transfers the heat produced by the components and helps in heat dissipation. The bottom layer of the PCB is copper, which is why it is a copper core PCB.
How Are Copper Core PCB Made?
The copper-based PCB's circuit layer must have a sizeable current-carrying capacity, so thicker copper foil should be used. Its thickness is generally 35μm~280μm. The thermally conductive insulating layer is the copper based's core technology, and the core thermal conductive components are aluminum oxide and silicon powder.
The epoxy resin-filled polymer composition has low thermal resistance (0.15), excellent viscoelasticity, thermal aging resistance, and the ability to withstand mechanical and thermal stress.
Moreover, the copper Core PCB's metal base is the supporting member of the copper Core PCB, which requires high thermal conductivity. It is generally a copper plate suitable for conventional machinings such as drilling, punching, and cutting. The metal layer (block) mainly plays a role in heat dissipation, shielding, covering, or grounding.
Structure of Coper Based PCB Board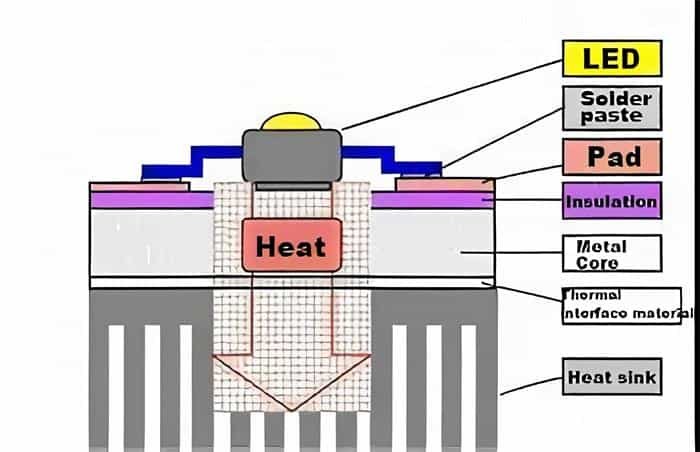 Schematic diagram of copper-based PCB heat dissipation
Due to the differences in copper and aluminum performance and the corresponding PCB processing technology, copper core PCB has more performance advantages than aluminum PCB.
Copper core PCBs are very expensive, but they provide the best performance among all-metal core PCBs. These PCBs are used for particular purposes, including high-frequency circuits and high-temperature variations. They can dissipate heat better than iron and aluminum core PCBs.
Multilayer Metal Core PCB Manufacturer
Due to the copper-based PCB's excellent heat dissipation performance, the high-end demand is strong, and the copper-based PCB's raw materials are tight. You need to order it as soon as possible.
Copper-based/core PCBs can be classified based on surface finish and Manufacturing process. There can be different types of surface finish and fabrication processes as required by the buyer. According to different types of surface finish fabrication processes, the commonly used copper core PCB types are Thermoelectric Separation Copper Core PCB, Hot Air Solder Level(HASL) Copper Based PCB, Anti-oxidation Copper Based PCB, Silver-plated Copper Core PCB, Immersion Gold Copper Based PCB, Immersion Tin Copper Base PCB, Immersion Silver Copper Based PCB, etc.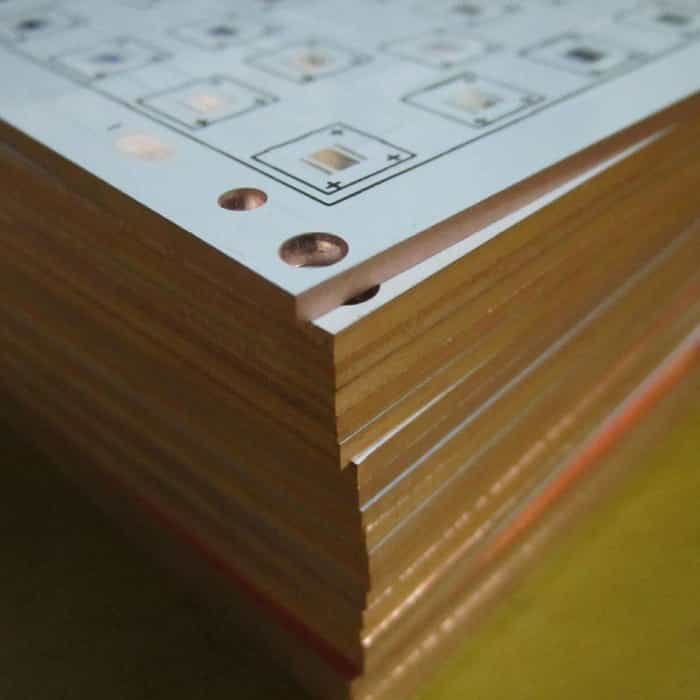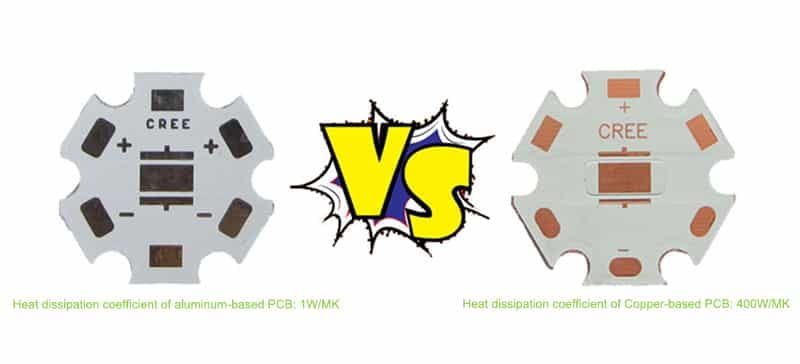 As a material with high thermal conductivity and heat dissipation, copper base PCBs are the best solution for high-power applications. When working with high-Tg projects, copper core PCBs offer the best thermal conductivity and heat dissipation.
Copper core PCBs were initially created for high-power switching supply, but they also have a significant presence in light-emitting diode (LED) applications, such as traffic lights. Copper base PCBs support higher-density designs, enabling more complex projects while operating at high currents.
Available applications include:
Lighting: Streetlights, interior lighting, and camping lanterns
Automotive: Headlights and power controllers
Telecommunications: Filtering appliances and high-frequency amplifiers
Audio: Output, input, and power amplifiers
Computers: Central processing unit (CPU) boards and power devices
Power supply: Solid-state relays, bridges, power rectifiers, and converters
Medical tools: Operating room and surgical lighting, power converters, and high-power scanning technology
We can feel that the competition between copper-based PCB and aluminum PCB is very fierce, but both have their market shares. Why is that?
1. Copper-based PCB is the most expensive of all metal substrates, while aluminum PCB costs are relatively low. Different users and different use environments can choose different substrates.
2. Copper-based PCB has a relatively long service life due to its intense heat dissipation and thermal conductivity. Therefore, copper-based PCBs are commonly used in areas with high requirements such as automotive lights, crewless aircraft, and industrial and mining lights.
The heat dissipation capacity of the aluminum PCB is about 1W-2W. Most of them are used for indoor lighting, which requires relatively low, low-power LED lights. Simultaneously, when used in homes, the cost is also one factor that needs to be considered.
The minimum drilling diameter needs to be 0.4mm because of the thicker copper base; the copper foil's thickness on the copper-based PCB determines how the line width and spacing are. If the copper foil is thicker, it will need a more expansive line width and larger minimum spacing.
Cost-saving is a prerequisite for copper-based PCB design, especially when designing irregular copper-based PCBs. Intricate circuit design mainly pay attention to the following factors: routing, aesthetics, assembly, heat, force, signal, and other requirements;
Force: The external force and vibration that the copper-based PCB receives during the working process, the size and position of the holes on the PCB Board need to be arranged reasonably, and the weakest surface of the board caused by the irregular holes should be sufficiently resistant to bending strength;
Routing, aesthetics, assembly: it needs to meet the customer's visual sense.
Get Your Copper Based PCB Today!
JHY PCB is a one-stop solution to all your PCB needs. We have a large facility in Shenzhen, China. Our PCBs are compliant with safety and quality standards. We are RoHS, UL, and ISO certified. We provide all types of PCBs, including copper core PCBs, aluminum core PCBs, flexible PCBs, rigid-flex PCBs, and high Tg PCBs. We are also experts in full turnkey PCB assembly services. Our strict quality management system and experts ensure the quality of PCBs. There is no minimum order requirement, and you can get quick-turn prototypes. We can handle small medium and even large volume PCBs. For more information, feel free to contact us.
Frequently Asked Questions