PCB prototype is necessary if you are going to do a project for the first time, or you want to check the PCB design. You cannot take the risk of mass production before testing PCB. Otherwise, in case of any error in the design, you will have to bear a huge loss. It is very difficult or almost impossible to correct any mistake in the PCB after manufacturing. A real engineer does not take any risk of losing money without testing the prototype. Thus, the best idea is to take a PCB prototype service before you spend on it. Today, we will discuss some benefits of PCB prototypes and the cheapest PCB prototype service to save your money and time.
Benefits of Getting the Cheapest PCB Prototype Service
There are dozens of benefits of PCB prototype service, but we will discuss some of them to tell you its importance.
Error Free Mass Production
It is possible that your first PCB might not work as you desire. So, you can check for any errors after getting the prototype PCB. This saves you from the mass production of faulty PCBs. An error-free mass production saves you time and money.
Option to Correct the Design
If there are any errors in the design, then you have time to correct it and come up with an error-free design. There are no options left once you are done with mass production. You cannot correct anything after that. So, by working on a prototype you can easily come with a correct design.
Testing with Components
You can also test every component by placing on the PCB whether they are working correctly or not. There is a possibility of less space to fit the part of its alternative while putting on the board. You can correct such flaws as well. You can easily ensure the working of every component and troubleshoot the problems as well.
Option to Innovate
Once you are done with testing and checking the components on PCB, you can also come up with changes and innovative designs to improve the product. You can test the new design on a new PCB prototype. Thus, working with a prototype allows you to innovate things and bring new ideas. You can make changes as many times as you want.
Finished Product
You have a better-finished product, one you have an error-free design. You can easily ensure the warranty and service of the product.
Saves Money
You save money by ordering one or two PCBs to check it. Most companies do not offer one PCB, but JHYPCB provides a minimum order of one piece, which makes ordering easier for everyone and saves money of the buyer.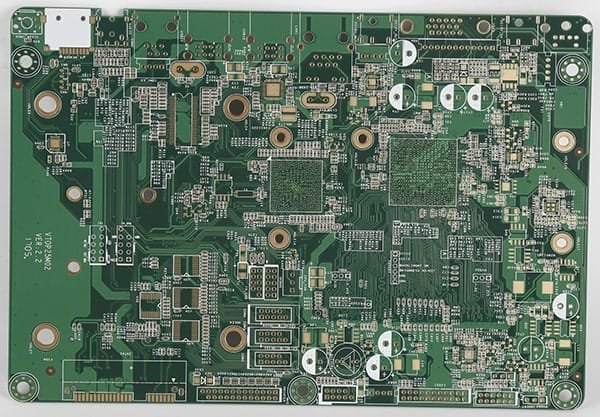 The Cheapest PCB Prototype Service
There are dozens of PCB prototype services in the market. They might cost you a lot for simple PCBs. JingHongYi PCB provides you the cheapest PCB prototype services. You can try your designs as many as you like because we offer you a cost-effective solution. Our most affordable PCB prototype service allows students, engineers, innovators, new start-ups to get their PCB prototypes at a reasonable price.
You might think the cheapest PCB prototype service will not worth it, but we will provide you all the facilities at the most economical rates. Let's look at the features of our cheapest PCB prototype service.
Features of Our Cheapest PCB Prototype Service
Our cheapest PCB prototype service has the following features.
Quality Qualified
We do not compromise on the quality, and we have quality management and manufacturing systems of PCB. ISO-9001:2008 certifies us. So, we can ensure better quality and performance of our PCBs. Moreover, our company is also approved by UL, TS16949, and RoHS compliance. We make all our PCBs according to international standards. Thus, you can buy our products with satisfaction.
On-time Delivery
We deliver products to our customers on time. We understand the value of time. You might need the PCB prototype on time to check your design and move to mass production. Our team always cares about on-time delivery. We ensure everything to be delivered on time without any hassle. So, you can rely on our service.
Online Support 24/7
We offer online support to our customers to solve their queries and issues. You can contact us via phone, WhatsApp, email, and online chat service. We are ready to provide you any help. If you are confused about any product, or you want to know about the best possible option, then you can contact our representatives, and we will assist you with anything round the clock.
Testing
We test everything before delivering it to our customers. We provide high-quality PCB prototype service at the cheapest rates. Our professional experts check everything to ensure the proper working of your prototype. Our PCB boards are according to IPC-6012 standards and inspected according to IPC-A-600.
Wide Range of Products
We have a wide range of PCB prototypes at the cheapest rates, and you get every service in one place. We provide multilayer PCB, heavy copper, and gold fingers PCB, impedance control PCB, etc. There are a variety of products, and you can choose anyone according to your requirements. There are PCBs of different shapes and types of materials. We care about our customer's needs. You are always welcome, and we can help you select a suitable PCB for your work.
Endnote
We have discussed the importance of PCB prototype service before starting the mass production of PCBs. We recommend getting a PCB prototype to ensure correct operation and error-free results. There is no need to take risks because PCB prototype services are available at the cheap rates.
JingHongYi PCB offers reliable, cheapest, and satisfactory PCB prototype services to customers. There is no limit of minimum order, so you can also order one piece as well. We ensure quality, our manufacturing processes, and quality standards certify services. We offer high-quality PCB prototypes at the cheapest rates. Our team is always ready round the clock to assist people in selecting the desired PCB and solving their issues.
Moreover, we not only provide the cheapest PCB prototypes services, but we also offer all kinds of small-medium volume PCB manufacturing. Thus, you can get all types of PCB services from our company at low rates. For more information, feel free to contact us.